Resource Categories
Popular Resources
MSI to EXE Package Setup Creator 2.0.1.5 Description

MSI setup to exe maker utility is a real time setup conversion tool converts whole msi installation package in to exe installer file. MSI to EXE setup package maker software professionally converts default Microsoft Visual Studio .NET framework MSI installation setup packages to equivalent and similar exe installer format in a single click. MSI installation package to EXE installer software facilitates to save converted .exe file at user specified location in your laptop or desktop computer and ensures to preserve originality of the application while converting into EXE. MSI to EXE builder Software is simple yet powerful wizard for software developer. MSI to EXE creator software provide user friendly GUI interface and no need to have any special skill to operate it. MSI to EXE application installer tool supports all versions of Windows operating systems including Windows VISTA, XP, ME, NT, 2000, server 2003 and 98. .NET framework MSI installation package to EXE convertor software is non destructive tool, can convert your existing MSI setup package into EXE format setup as it is without affecting another hard drive saved data.
Features:
* Easy and user friendly single click MSI to EXE setup creator software do not require any prior technical knowledge for converting MSI setup package into executable exe file format.
* MSI to EXE builder tool provides facility to save the converted exe file at user specified location in your computer.
* MSI installer to EXE installation package converter utility is powerful and cost effective solution to generate .exe (executable) file from already existing msi (Microsoft Installer) file in just few mouse clicks.
* MSI package to exe setup maker application is helpful utility for software developers or programmers for creating .exe file from .msi setup file.
MSI to EXE Package Setup Creator 2.0.1.5 Screenshot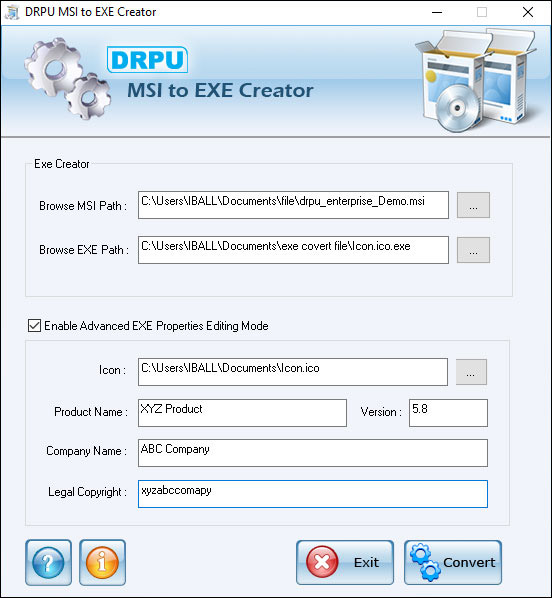 [+]
Review MSI to EXE Package Setup Creator
0.0/5