Resource Categories
Popular Resources
Version:
1.0
Released:
2008-06-20 09:02:12
Language:
English
Platform:
Pocket PC,Windows Mobile 2003,Windows Mobile 2005
File Size:
475KB
Price:
$49.99
Buy Now
Download Relay Timer PPC 1.0
Relay Timer PPC 1.0 Description

Relay Timer PPC is a useful tool for NCD ProXR relay controller boards with Pocket PC. It supports 1 board with 8 relays. Each relay can be programmed separately with multiple timers. Relays can be turned on/off manually and automatically according to the time setting. The status of all relays can be changed and displayed at the same time. It can control the relays with very precise timer, while consuming the processor's resource at very low level. It can work on PPC2003SE, WM5.0 and WM6.0. It is robust, real-time, and easy to use.

The features of Relay Timer PPC include:
Support 8 relays. Each relay has a control panel separately.
Support multiple timers. Up to 255 timers can be set for each relay.
Support turning on/off each relay manually and automatically.
Support turning on/off and inverting all relays directly.
All existed COM ports can be detected automatically.
Status of relays can be saved for later loading.
Time setting can be saved for later loading.
Change between Landscape and Portrait modes automatically.
Beautiful GUI and easy to setup.

Relay Timer PPC only supports ProXR relay controller boards of National Control Devices (NCD) for now. Customized service for other boards is available.

Relay Timer PPC 1.0 Screenshot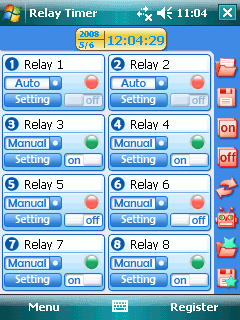 [+]
Review Relay Timer PPC
0.0/5